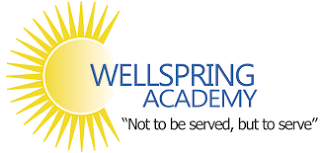 JOB ANNOUNCEMENT
Biology teacher for Advanced level
Job Description:
Wellspring Academy is an international Christian School with a Vision to produce a new generation of servant leaders to bless Rwanda and display the best of Rwanda to the world. The school mission is to educate and equip students to become highly skilled, godly leaders and agents of community transformation. The school is currently hiring a Biology teacher for A level.
This person is expected to work successfully with a range of students, be verse in research-based practices and seek to become part of our learning community.


Nature and Scope of Job:
The Biology teacher at Wellspring Academy is responsible for the following duties and responsibilities;
Prepare weekly lesson plans
Maintain high professional standards consistent with Wellspring Academy vision and mission statement.
Deliver Biology lessons to the students in Advanced levels following theCambridge curriculum.
Prepare candidates for Cambridge International Examinations (Both AS and A levels)
Be able to integrate biblical values into the curriculum
Be able to manage children both in classroom and outside the classroom.
Participate in department meetings, and in professional trainings
Work collaboratively with other teachers, staff and administration
Demonstrate punctuality in reporting to the campus for teaching time, meetings, devotions, and morning duty, as well as spend the appropriate and adequate time after school to complete responsibilities and to be ready for the following day.
Maintain orderliness and cleanliness of the classroom on a consistent daily basis.
Ensure the health, safety, and welfare of the students through awareness and the implementation of applicable school policies and procedures.
Communicate consistently with parents on the progress and needs of the students.
Reporting
Teachers in the secondary section report directly to the Deputy Principal in charge of Secondary section.


Professional Qualifications:
At least a Bachelors' degree in education (Sciences) from an accredited higher learning institution
Expected experience and skills:
Minimum of TWO years of teaching experience in an international program (CIE preferred).
Practical computer skills of Microsoft office package ( Word, PowerPoint, Excel)
Proficiency in English is required
Personal and spiritual qualities
Passionate for holistic child development
A strong relationship with Christ and a desire to grow in faith
Passionate with education and love for children
Excellent interpersonal skills (enjoys working with people, encouraging, sharing ideas, motivating and a positive mind)
Practice principles of Christian growth including prayer, study, witnessing, and discipleship.
Physical, mental and health fitness to perform the duties and responsibilities.
Interested candidates should visit our school website www.wellspringacademy.org then go to join our community and fill the form " Job opportunities at Wellspring Academy"
Closing date for applications: July 10th, 2023
We thank all candidates for their interest in working with the Wellspring Academy, but due to large numbers of applications, only successfully shortlisted applicants will be contacted for the interview.
Thank you for submitting your application
Stephen Rudakemwa
School Principal