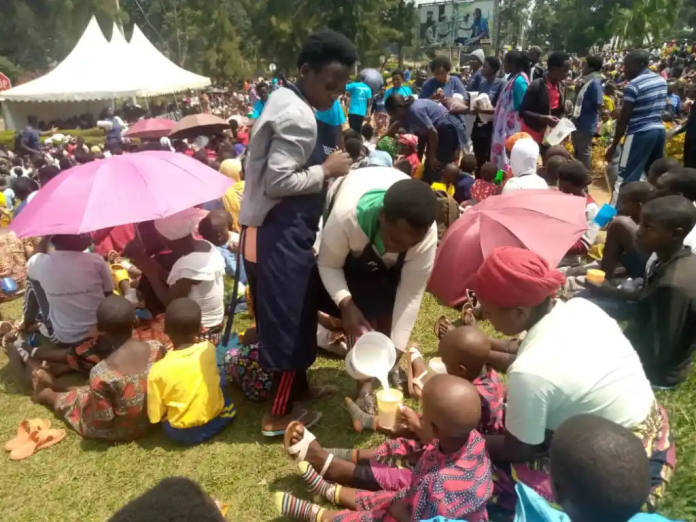 Residents of the Byumba sector say that after receiving various trainings, they have learned that having a good life, and the fact that a child can live without being in trouble does not require significant resources, but requires self-confidence.
130 families who have not been engaged in the program to fight child abuse
More than 600 people decided to meet and donate Frw 1000 per week, which helps them pay for themselves, get medical care, get vegetables and fruits to feed their children, and help them think about their future including a savings plan.
They say that it was the training they received from the Priestmead Foundation that brought them together as people who do not have the ability to develop, because they are located in the first and second class of Udehe, but they appreciate that apart from the land they sometimes receive help and find something to feed their children.
On February 19, 2023, the Priestmead Foundation said that they used to have children in the red because of malnutrition, conflict, lack of hygiene, and being called the poor, but now they say that has changed and is considered a thing of the past.
Nyirantezimana testifies, affirming that her child used to be in a red color because of not understanding how to feed the child a healthy diet, because she felt that there is another way to give birth and the child is raised by God.
He says: "I used to feed my child what I saw, but knowing that green vegetables, eggs or beans are very beneficial for the child's growth was taught by the Priestmead Foundation, now the peak of vegetables and my child can not be counted."
The Executive Secretary of the Byumba sector, Ngezahumuremyi Theoneste emphasizes that the Priestmead Foundation has been working in the sector for three and a half years, but there have been achievements in changing the perception of the people, who used to be called the poor.
"We appreciate the Priestmead Foundation we work with every day, either in combating slavery, helping the needy or providing training or providing assistance where it appears to be needed, about 130 illegal residents have been promised because of this organization in order to prevent conflict."
He said that they teach them about cleanliness and how to work productively and help them save as much as they can.
"They are good partners and we are always ready to work with them," he said.
Nteziyaremye Jonathan is the head of the Priestmead Foundation working in the Byumba sector. , construction, carpentry and more.
This organization from England was founded by people from one community, who had a loving plan to develop a way to uplift the underprivileged in the world.