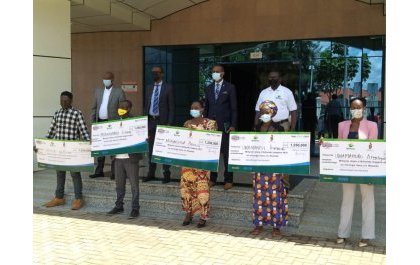 The National Social Security Service (RSSB), announced that more than 41 billion Frw has entered the EjoHeza fund in the long-term social security program.
EjoHeza was established by the Government of Rwanda through the Ministry of Finance and Planning, determined by Law No. 29/2017 of June 29, 2017. It is a voluntary long-term savings.
Rwandans have accepted this program because they already know the importance of saving for their future and until now they have seen the benefits of saving it.
Some of the people who spoke to the RBA said that they have already seen the benefits of EjoHeza after some of the risk takers were taken on the back by various other benefits.
A resident of Nyagatare District who passed away was saving 1500Frw per month, after his death his family was released and received the contributions and benefits he had given.
Habyarimana Joseph from Gikundamvura Sector said that when they were told about EjoHeza they did not believe it but now they are starting to see the benefits and appreciate this idea.
He said, "There was 1,250,000 Frw money that they told us, and we thought it would not be possible. The next day, people died here in Gikundavre, all the elders of those families got that money."
"The good thing about EjoHeza is that instead of having a family, go sell your property or land to get funeral expenses for the old man, instead of getting wealth from it, I saw someone who set up a shop."
On the part of the General Director of Membership in RSSB, Dr. Hitimana Regis, he said that Rwandans have already understood the EjoHeza program as shown by the number of participants as the days go by.
He said, "We're at an interesting point because we're seeing the forecast numbers going up to an interesting point on the long-term budget that's going up. We have reached a point where we have more than three million Rwandans who have opened accounts this past year."
From the beginning of EjoHeza until now there are 3 110 446 registered members, 2 585 139 savers with savings of more than 31 billion Frw. This savings account already has a profit of 5 904 621 194 Frw, the State contributed more than 3 billion Frw. In the entire Fund, 41 064 785 105 Fr.